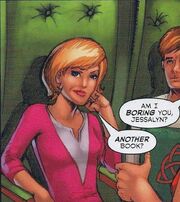 Jessalyn is a bratty student attending Magic School.
Powers and abilities
Edit
Jessalyn is a witch with the basic powers of spell casting, potion creating, and scrying.
Personal History
Edit
Jessalyn walks down the hallway in Magic School while two students use their powers openly. She attends Paige's lecture about the Halliwell's Book of Shadows but becomes increasingly bored and yawns rather loudly. She argues with Paige saying that she didn't expect to be learning about magic through lectures but rather through experience. Paige hands her the Book of Shadows and she opens to the spell to change one's appearance. The spell, however, backfires and Jess is turned into a huge monster with horns, fangs, and claws.