Dead Man Dating is the title of the fourth episode aired, however it was also originally produced to be the sixth.
Prue tries to avoid a birthday celebration as Piper befriends and saves the restless soul of a ghost who was murdered by a gang leader. The sisters save his soul and learn a valuable life lesson.
Magical Forces of Good
Edit
Magical Forces of Evil
Edit
Power usages
Edit
Phoebe gets a premonition when she grabs Frankie's arm at the hotel.
Phoebe sees the future of a blonde woman at her Amazing Phoebe table.
Prue throws a cart of desserts in front of Andy's path at Quake.
Yama appears in the alley
Piper freezes Yama in the alley.
Phoebe has a premonition when she grabs a man's wallet in the hotel.
Phoebe gets a premonition after hearing the news on the kitchen television.
Piper freezes the room in the warehouse.
Phoebe gets another premonition in the hotel lobby.
Prue throws one of Tony Wong's men against the wall.
Prue throws open the door into the warehouse room.
Piper freezes the warehouse room right as Tony Wong shoots Prue.
Prue throws Tony Wong out of the room.
Yama appears in the alley.
Yama captures the soul of Tony Wong.
Yama disappears out of the alley.
Phoebe says that she can see color in her visions.
No spells were cast or seen.
Book of Shadows
Edit
The Book of Shadows was not seen.
Artifacts
Edit
Chinese ghost-warding amulet (2)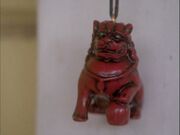 Behind the ScenesEdit
Notes and trivia
Edit
Semisonic's "Secret Smile" is featured during the intro credits.
This episode was originally produced as the sixth episode instead of the fourth.
| | |
| --- | --- |
| Season 1 | 1, 2, 3, 4, 5, 6, 7, 8, 9, 10, 11, 12, 13, 14, 15, 16, 17, 18, 19, 20, 21, 22 |
| Season 2 | 1, 2, 3, 4, 5, 6, 7, 8, 9, 10, 11, 12, 13, 14, 15, 16, 17, 18, 19, 20, 21, 22 |
| Season 3 | 1, 2, 3, 4, 5, 6, 7, 8, 9, 10, 11, 12, 13, 14, 15, 16, 17, 18, 19, 20, 21, 22 |
| Season 4 | 1, 2, 3, 4, 5, 6, 7, 8, 9, 10, 11, 12, 13, 14, 15, 16, 17, 18, 19, 20, 21, 22 |
| Season 5 | 1, 2, 3, 4, 5, 6, 7, 8, 9, 10, 11, 12, 13, 14, 15, 16, 17, 18, 19, 20, 21, 22, 23 |
| Season 6 | 1, 2, 3, 4, 5, 6, 7, 8, 9, 10, 11, 12, 13, 14, 15, 16, 17, 18, 19, 20, 21, 22, 23 |
| Season 7 | 1, 2, 3, 4, 5, 6, 7, 8, 9, 10, 11, 12, 13, 14, 15, 16, 17, 18, 19, 20, 21, 22 |
| Season 8 | 1, 2, 3, 4, 5, 6, 7, 8, 9, 10, 11, 12, 13, 14, 15, 16, 17, 18, 19, 20, 21, 22 |